When you've been a renter for years, it can seem overwhelming to buy a home, let alone build one. For a lot of
first home buyers nz
, things like bidding and mortgages can be a big load to handle. Here at Two Structures we understand what it's like to be a first-time home buyer. We know it's tough, and the process brings about some challenges that you've never experienced before. We knew we would have a lot to sort out, home insurance, new windows and
home security camera options
! A never ending list and we've not even started the construction process yet! Finding a home in
the coves at cane bay
is a hard enough process in itself, but trust us, you don't know the half of it yet. We talked with recent first-time home buyers Katie and Kevin Bertels about their experience buying and building their first home.
Katie and Kevin Bertels
Katie works at Chesapeake in the HR group and Kevin works at Williams in the IT group. They have an energetic three-year-old boxer/lab mix named Phoebe.
2015 was a busy year for the Bertels. They started the building process around May 2015, they got married on June 6, construction began on their house in July and they moved in on November 2nd.
What were the steps you took to get your home?
We started by looking online, trying to find a style, size, and area that we liked. We found the craftsman style, and then started looking at existing homes trying to find one that we liked and was in our price range. That's when we found
Pleasant Grove
and
Two Structures
. They told us about
Calm Springs
, a brand new neighborhood, and the styles and prices. That's when we knew
Calm Springs
and building a house was our plan.
Then we meet with all of the builders and walked through different floor plans, talked about pricing, talked about customization options. We eventually ended up with Two Structures and the Surri Hills customized floor plan. We choose Two Structures because they would allow us to customize our floor plan, the price was competitive, and their overall responsiveness and customer service was far greater than any of the other builders we met with.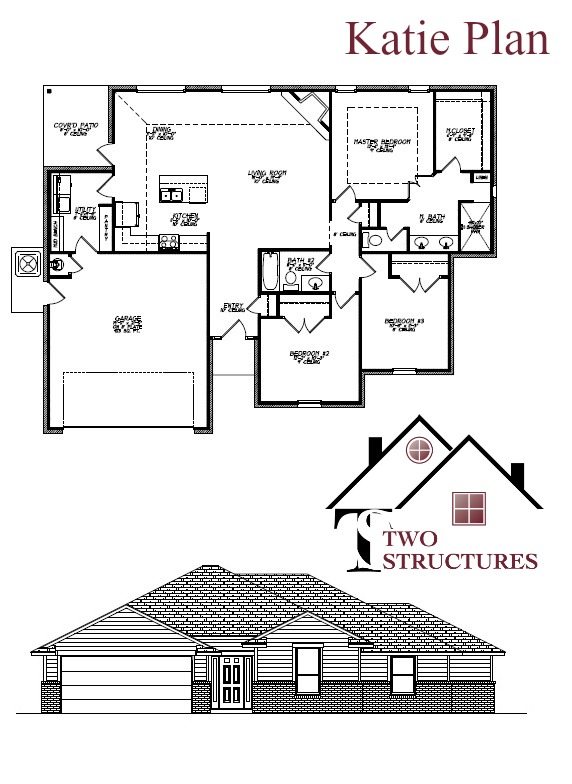 Because changes were made to the original Sales Plan, the Sales Plan the Bertelses have is called the Katie Plan.
Why did you decide to build a home instead of purchasing an already built home?
Since we wanted the craftsman style house there were not many options as far as neighborhoods and builders. Once we found out we could build our own craftsman style with Two Structures, customize it to our liking, and the price was still within our budget, we were sold!
What was the most difficult part of the home buying process?
Taking the first step to sign the contract saying we wanted to buy and build a house. Two Structures did not pressure us into signing anything. Once we were ready, they were there for us.
How important were customization options to you?
Customization options were very important. We had 3 to 4 things that we had to have in a floor plan, and we were able to work with an existing Two Structures floor plan and customize it so those things could be accommodated.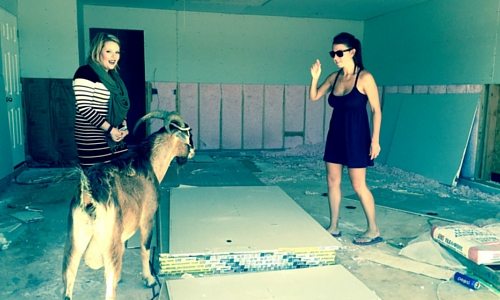 A goat wandered its way over to the Bertels' lot while their home was under construction.
What's the story with the goat?
Kevin: He was just there hanging out one day, he was very friendly, he sort of used my leg as a scratching post for his head? So once that happened we were inseparable and he followed us into the house and walked around with us for a while. Eventually, I found a cookie on the ground leftover from someone's lunch and led him back to the field with that.
One day a few cows were loose in the neighborhood. They were hanging out in some of the unfinished garages just enjoying the shade. A couple guys from the city came by on their horses and eventually rounded them up. Now that Phase 1 is mostly finished we haven't had very many animal encounters, but I'm sure Phase 2 of the neighborhood will get to have their excitement.
What was getting financing like?
We met with one lender to get our pre-approval, so we had to gather all of the financial documents for that. Once we had all of our documents together we worked with 2 or 3 different lenders to get the best interest rate and down payment credit.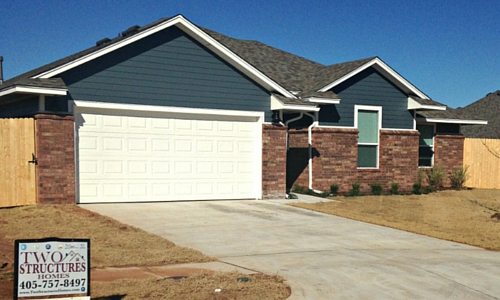 Kevin and Katie's new home.
How did you decide which financing option was for you?
We wanted to find a lender that we could trust and who had a good reputation of being able to close on time. We also had to find a balance between interest rate and down payment credit provided by the lender.
How does owning a home compare to renting?
It's awesome. We love having our own space and investing in something rather than just throwing away rent money every month.
What are your favorite things about your new home?
It's so bright and open on the inside, we love that we have the open kitchen/living room/dining room floor plan. Also our master bath is very spacious; we decided to have a huge walk in shower instead of a shower and garden tub (that was one of our must haves customization options that Two Structures was able to make happen). We also got to
pick a lot
on the end of the cul-de-sac and our backyard is huge, so that is nice for our dog.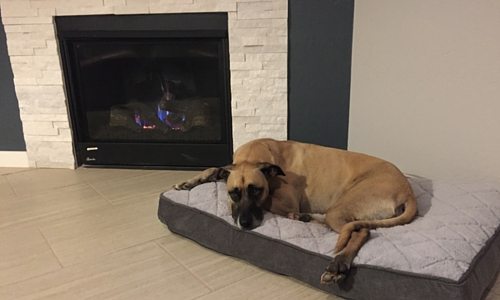 Phoebe enjoying her new home.
Is there anything you wish you knew when you were going through the buying process?
The buying process was fairly easy, once we secured our financing there wasn't too much that we worried about. Every time we had questions we called Kaitlin, Two Structures' community manager, and she was able to answer our questions or find out the answer and get back to us.
What do you guys do for fun?
Our families love going to the lake; that's where we are pretty much every weekend during the summer. We both enjoy exercising so it's fun to take Phoebe on runs around the neighborhood and check out all of the different houses being built.
Interested in building your first home?
Contact us
today to talk about your options.