A fast sale at top dollar is the goal of all home sellers. But luck doesn't make this happen—preparation does.
Plan to spend at least two weeks getting your house ready for sale. This may seem like a long time, but it will be worth the effort. Remember that buyers often decide whether to purchase a home in the first few seconds, so that first impression is critical.
Let's look at some ways to make your home irresistible and marketable.
Depersonalize the house


Let go of your emotional attachment to the house so buyers can visualize it as their own. The house is now a product for sale to someone else.


Remove personal items such photographs, heirlooms, and anything that says this house is yours.


Let potential buyers visualize making the house a place where they will build their own memories and add their own personal touches. If buyers can't see past your personal photos and artifacts, they can't paint that visual picture.


Remove the clutter
Clutter is a distraction making the house look dirty, unorganized, and smaller. Keeping your house clean before selling is very important and should be a priority of yours. Make sure you're regularly vacuuming with something like a
Bissell
vacuum cleaner. If you are unsure of whether your house is clean enough to be put on the market, you might want to check out a professional cleaning service such as
Sparkle and Shine
as they may be able to help your home get nice and ready for sale.
Remove unnecessary items
from shelves, counter tops, tabletops, bookshelves, and even closets. Rent a storage unit if necessary.
Tips


Remove books from bookcases.


Take out knickknacks from bookshelves, desktops, and tabletops.


Clear kitchen and bathroom counters.


Don't forget the garage and outdoor spaces.


Consider the furniture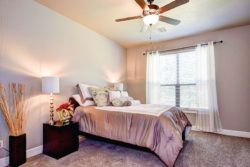 Almost every home shows better with less furniture. Remove items that block or hamper paths and walkways.


Put items in storage, if necessary.


Remove extra leaves from your dining room table. The room will look larger.


Leave just enough furniture in each room to showcase the room's purpose. You don't want buyers scratching their heads and asking, "What is this room used for?"


Make sure that any furniture, like your gloss tv stand from
furniture in fashion
, is in top condition and has had some recent TLC to ensure it looks presentable.
Think ahead about items you plan to keep
To avoid a potential deal killer, remove and replace all items you plan to keep. This might include window coverings, built-in appliances, or fixtures—even the chandelier that once belonged to your great grandmother. Once you tell buyers they can't have an item, they will covet it. Not letting them have it could blow your deal.
Make minor repairs


Replace cracked floors or counter and bathroom tiles.


Patch and paint holes in walls.


Fix leaky faucets.


Fix doors that don't close properly and kitchen drawers that jam.


Touch up paint throughout the house.


Repaint in neutral colors any rooms painted in bold or unusual colors. Remember that you want the buyer to visualize the personal touches he or she will add to the house. Your favorite color may distract the buyer from making this mental leap.


Replace burned-out light bulbs.


Pay attention to the kitchen
Make the kitchen a focal point. Whether buyers cook or not, they are interested in the kitchen. Winning them over with an appealing kitchen can often convince them that they must have the home.
Make sure your appliances are clean, sparkling, and working. Return on investment in the kitchen is usually high and worth every penny.
Make it shine


Wash windows inside and out.


Rent a pressure washer and spray sidewalks and exterior surfaces.


Clean out cobwebs.


Recaulk tubs, showers, and sinks.


Polish chrome faucets and mirrors.


Clean out the refrigerator.


Vacuum daily.


Wax floors.


Dust furniture, ceiling fan blades, and light fixtures.


Bleach dingy grout.


Replace worn rugs.


Hang up fresh towels. Bathroom towels look great fastened with ribbons and bows.


Clean and air out your home. Everyone gets used to the smell of their own home—even with pets. But bad odors are deal killers. Use candles before and during showing. Enlist the help of a neighbor or your listing agent to check your home to confirm that smells you are used to are gone.


Remember the value of curb appeal
If you don't pay attention to the outside of your home, the buyer won't give your house a chance.


Mow the lawn often—even every 4 days.


Keep the sidewalks clean and clear.


Pressure wash if needed.


Spiff up shutters, lamp posts, etc., with a coat of paint.


Plant yellow flowers or group flower pots together. Yellow evokes a buying emotion. Marigolds are inexpensive.


Freshen up the soil and mulch in flower beds.


Trim bushes.


Make sure visitors can clearly read your house number.


Final check: play the role of the buyer
Check your preparation by playing the role of the buyer. Ask friends, relatives, and your listing agent to do the same. Be objective and follow these steps:


Drive by the house but don't stop. Look closely as if you were interested in buying.


Drive by and stop, look, and scrutinize. Is this a house I would want to buy?


Stroll up the walkway. What is your first impression of the outside? Do you want to go inside? Does the house welcome you?


Walk in the front door and into the main living area. Again, what is your first impression?


Linger in the doorway of every room, and imagine how your house will look to a buyer.


Carefully examine how furniture is arranged. Move pieces around until the room makes sense.


Make sure window coverings hang level.


Tune in to the room's statement and its emotional pull.


Listen for traffic or outside noises. If this is a problem, add ambient sound to cover up undesirable noises.


Making your home more appealing is about seeing your home through the eyes of your potential buyers. When it's time to go over the offers, you'll be glad you did.