Wouldn't it be nice if you could rate how energy efficient your new home will be before construction begins; or rate the energy efficiency of your current home? Well you can! It is called a Home Energy Rating or HERS index. You can also look into a site like
Simply Switch
, who can help save you money on your energy bills and to help you switch providers to find the latest deals for gas and electricity. And to protect your heating and electric systems, take a look at some
home warranty reviews
to find the best.
Before finding out the results of the rating, it could be worth checking that your home is up to date with maintenance as this can have a big impact on the readings. For example if you have a hole or damage in your roof, you should get it repaired by a company like
Taylor Roofs Scotland
or one nearer to you so it's ready to go and won't affect the rating result. The results of the rating include reports covering just about everything you would want to know about how your home performs. Among other things, you'll find out your home's:
1. | Annual energy consumption for heating, cooling, water heating, and lights & appliances

2. | Estimated annual energy costs, broken out into the 4 categories above

3. | Compliance with energy codes
This analysis can be done for new homes before they are built as well as existing homes. For new homes, the rater will rate the plans and specifications for the home. This rating allows you to compare the energy efficiency of the home design and compare it to energy efficiency of other new and existing homes. It also helps when you are trying to make sure the house will qualify for programs like
ENERGY STAR
or energy efficiency tax incentives or rebates.
For existing homes, a home energy rating will help you determine the energy savings gained by a home improvement or remodeling project that includes energy efficiency improvements. It will also help you qualify for an
Energy Efficient Mortgage (EEM)
. One way that a rating helps with an improvement plan is by pinpointing where the biggest problems lie. In the graph below, for example, you can see that this home's #1 problem is duct leakage, followed by uninsulated walls and lots of infiltration. Putting a storm door on this house would do little for its efficiency, since heat loss through the door is so small to begin with.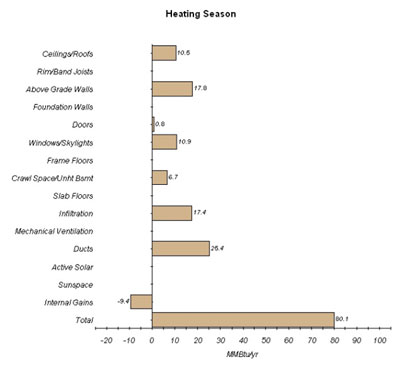 Another nice thing about home energy ratings is that each home gets a score, called the HERS Index. An Index of 100 means that the home exactly meets the energy code. The scale below shows the scale with some markers indicating where different types of houses fall.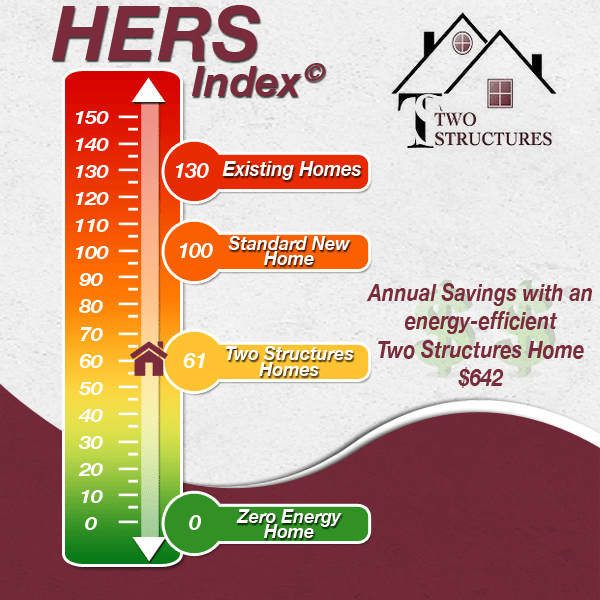 MORE DETAILS
RESNET
, a nonprofit organization, oversees the Home Energy Rating (HERS) industry. A detailed set of standards (the HERS Standards) governs how certified home energy ratings must be done.
The home energy rating process basically comprises four parts:
1. | Assessment of building components

2. | Diagnostic/performance testing

3. | Energy modeling

4. | Reports
A professional that performs the rating is called a certified home energy rater. Certified home energy raters go through training and certification processes and undergo regular quality assurance.
For more information on HERS ratings and a Two Structures Home visit our
website!